Adventure Awaits in
Fort Peck, Montana
Join us in 2023 for a one-of-a-kind ice sailing experience.
ALL ICE SAILORS WELCOME!
The Fort Peck reservoir, created by a massive earthen dam of the Missouri River, boasts more shoreline than the entire state of California. Winters are cold in Montana, so ice is often 16+ inches thick
March 17, 2022
With regret, we must announce that the Hard Water Summit will not be happening this year. Mother Nature decided she wanted an extended period of warm days, lots of sunshine and nights barely below freezing. We appreciate your enthusiasm for this adventure and we may decide to give it a go again next year. If you have any input on this question, we'd love to hear it. Email us at montana.icesailing@gmail.com
Join Us For the First Hard Water Summit
Ice sailing on Fort Peck Lake in Montana has been a highlight of my ice sailing experiences. The miles of ice and spectacular landscape are unique in North American ice sailing.
Discover the Glasgow Area
Glasgow
Chamber of Commerce
Fort Peck Dam
Interpretive Center: Dinosaurs to dam building.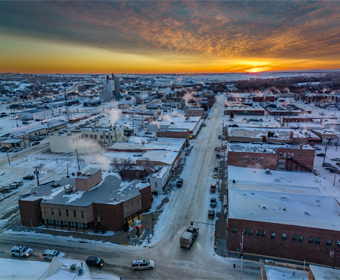 Lewis & Clark Trail
"..one of the handsomest plains we have yet Seen." William Clark